Junior bike fitting – is it necessary?
Junior Bike Fit only - $179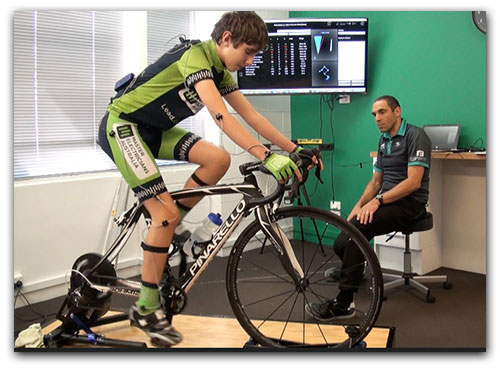 Being appropriately fitted to your bike as a junior athlete and cyclist is like being properly fitted for a pair of running shoes. When you purchase a pair running shoes, the professionals will look at the appropriate size shoe, as well as your individual foot structure and running style, so there is less likelihood of an injury or issue. A shoe-fitting professional will also take into account potential growth over a 6-12 month period.
Fortunately, with bikes, the scope of adjustment and the right advice, it is highly unlikely you will have to make multiple bike purchases over a 12-24 month period, as we do our best to ensure the bike you choose is the correct frame size with the scope of adjustment in the future.
From mounting their first tricycle to the end of the growth process, juniors are among the biggest population of recreational cyclists – and their bodies are ever changing and evolving. The way their bodies work with and relate to a bike is every bit as important as it is for adults – and having their equipment set just right is imperative not just for their riding experience, but also for their physical and physiological development.
While a child's resilience and flexibility may give the illusion that their body will adapt to any injury or long-term positional issue, this is not the case, and certain issues left unaddressed can become a permanent fixture in the body.
Posture is one example of this. Bones and muscles, as well as organs and ligaments, adapt more quickly in children than at any other stage of life – and negative patterns can translate to permanent problems, which only become obvious later in life.
Why your child needs a bike fit
Children grow quickly and in spurts, the patterns of human growth are affected by many factors, and this is why bike fitting and frame sizing in juniors is so important. It's the same as growing out of running shoes. Cycling – and the composition of the bike with the rider – affects all areas of a child's growth:
Rates of growth of epithelial plates
Different segmental bone growth rates
Development of the foot
Spinal alignment and symmetry
Pelvic muscle development
Urogenital development – particularly in boys
The main aim of bike fit for juniors is to achieve symmetry in the body and ideal biomechanics while riding, achieved by ergonomic optimisation. Incorrect bike-frame sizing will ultimately result in sub-optimal positioning, poor pedalling technique, and inefficient energy expenditure. The right bike fit will ensure that riding in no way hinders or compromises growth and development.
Much of a junior bike fit is similar to that for adults, though aspects such safety and comfort and areas such as bar width and crank length have far more impact for kids – and the common practice of purchasing a bike that the child will grow into is sometimes not the answer.
It is always important to ensure you have the correctly sized bike, as well as the appropriate bike-fit set-up and advice around when to review your child's positioning. When recommending a frame size and cycling shoes for juniors, we will always take into account the scope for that extra growth if this happens.
How often should you fit your child?
Our process is to have an Initial Bike Fit where we start the bike-fitting process. Then given the vast difference of growth rates in children, we suggest keeping an eye on the growth rate (by self-monitoring height) and if there is a growth rate of more than 1.5 cm we suggest a review.
Cycling is so good for juniors – for a healthy lifestyle, improved attention and mental health, and physical conditioning – not to mention that it is fun. Ensure your child has a bike fit performed on a regular basis – at minimum once a year – to maximise the effectiveness and comfort, not to mention safety, of this rewarding recreational activity. Put simply, a junior bike fit is your child's ticket to riding success, and remember comfort is performance.
Our 2-step junior bike-fitting process
Step 1:
Initial Bike Fit
$179.00, which is a longer consultation that goes for 1.5 hours.
Step 2:
Review process, a 30-60 minute consultation and review where we give self-monitoring techniques so you know when to make the next review appointment.
$39.50 per half hour.
For a bike-fitting session with a professional from Bike Fit Studio call (07) 3844 0226.