Gift voucher: Give the ideal bike-fit gift
Are you looking for the perfect gift for the cycling enthusiast in your life?

Sometimes it's hard to know exactly what to buy for another person, even when they are your nearest and dearest – and especially where their hobby is concerned. What does the recipient need? What do they actually want? What do they already have? The perfect gift is one that is well thought out, considered and customised to the recipient, and that will be appreciated.
Here is where a Bike Fit Studio Brisbane gift voucher is the perfect gift. For all bike riders, young and old, professional and amateur; from road racers to mountain bikers to recreational weekend riders, a gift voucher for Bike Fit Studio Brisbane translates to a personalised gift that can be used for redemption on any of our myriad services, including:
Comprehensive bike fit with Retul 3-D motion-capture – including biometric analysis, analysis of shoes and cleats, and much more.
Pre-purchase bike fit and bike-frame sizing recommendations.
Second bike-fit assessment.
Fit review assessment.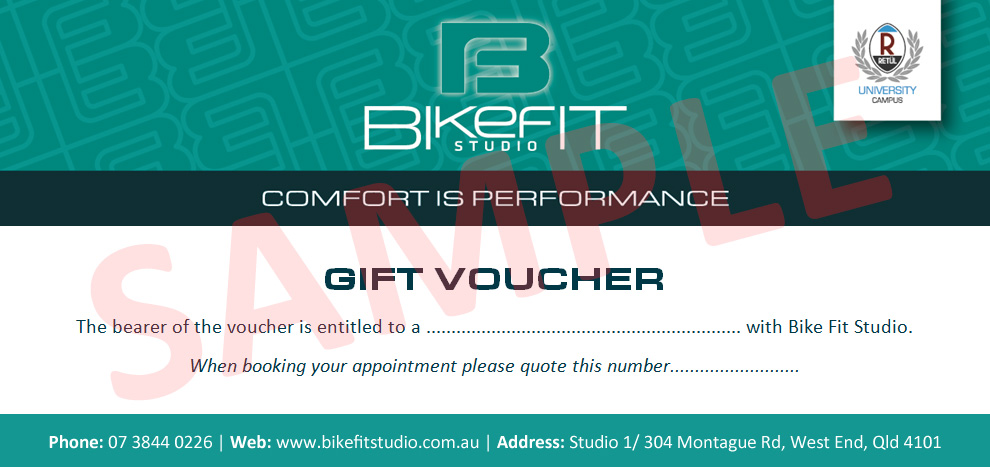 Our Bike Fit Studio gift vouchers are available in-store and online at a range of price points, so no matter what your budget, you can give the greatest gift to a cyclist – a gift that will be enormously appreciated and will definitely not be relegated to the "socks and undies" category.
Here at Bike Fit Studio Brisbane, we are committed to making riding a premium experience for every cyclist and with our professional bike-fit services you can't go wrong. Whether you seek a gift for Christmas, birthday, anniversary, graduation, Father's Day, Mother's Day, Valentine's Day, retirement or any other occasion, look no further.
Contact us today on (07) 3844 0226 for more information on our list of bike fitting services.