Get bike fit with a Fit Review
Fit Review only - $179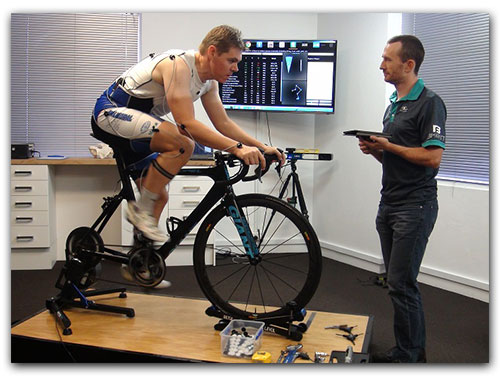 Once you've made yourself at home on your new bike it's inevitable that you'll want to make a few adjustments to improve your overall comfort levels.
If you have a new pair of shoes or saddle and are experiencing problems or issues, maybe it's time you had a check-up.
A follow-up Fit Review session with our Brisbane-based bike-fitting team can be booked at a time that suits you and our flexible opening hours ensure we can accommodate everyone's needs.
Who needs a Fit Review? Clients who have already had an initial bike fit with Bike Fit Studio and believe their bikes are in need of adjustment or fine tuning.
Under the guidance of our specialist team, cyclists can work through their fit on the bike. Coupled with our biomechanical analysis using our Retül 3-D system, we can optimise a rider's bike fit and ensure maximum efficiency and comfort.
A Fit Review appointment is appropriate for a bike that has been fitted by Bike Fit Studio within the past year, at this time a follow-up visit is recommended for part changes and a reassessment of performance and comfort.
"At Bike Fit Studio we believe that comfort equals performance" – Nick Formosa
3 frequently asked questions about a Fit Review
Why choose Bike Fit Studio? We have carefully selected a range of qualified and experienced team members that are not only passionate about cycling but dedicated to fitting a bike that will give you the smoothest and most efficient ride.
What is the Retül 2-D and 3-D system? The world's only cycling-specific, 3-D, motion-capture system featuring real-time kinematic data. It takes the place of a fitter's level, goniometer, tape measure and plum bob. The Retül is one of the most advanced fitting tools in the world.
What happens in a fit review? In a fit review we find that often just the slightest adjustment can substantially increase a rider's comfort levels, increase performance and speed, and help you ride more efficiently.
FAST FACT: The average Australian household has 1.47 bicycles in working order and 55.2 per cent of households have at least one bicycle in working order.
We believe our customers should never be uncomfortable because of their position; if a position is causing discomfort then you're not set up correctly.
Our qualified team will adjust your bike to create the perfect ride while considering factors such as aerodynamics, power output and the ability to breathe easily, so what are you waiting for?
Contact us on (07) 3844 0226 or email info@bikefitstudio.com.au and book a follow-up Fit Review today.
"I was delighted to find the professionals at Bike Fit Studio Brisbane to be friendly and extremely helpful. They were more than happy to help in any way possible and provided plenty of information and advice to improve riding skills and experience. They were also very keen to share information on upcoming cycling events in Brisbane and beyond. I can't recommend this service highly enough." –  Mikhail Kuchavo