Get back to basics to find the right fit
First/Initial Bike Fit only $349
Why your initial bike fit is crucial
Riding a bike should never be painful; comfort is crucial because any time you feel discomfort when cycling it's likely that your performance will drop and so will your enjoyment.
Bike Fit Studio's initial bike-fitting session concentrates on removing any confusion in regards to what a bike should feel like and getting back to basics in regards to the best fit.
We look at your goals, riding history as well as any injury considerations and biomechanical limitations.
Here are 5 reasons why you should have an initial bike fit
Being optimised for your ideal riding position and bike.
Whether you're a commuter or racing cyclist, a professional bike fit is an investment in your health.
Enhance your performance.
Your bike will be faster and more comfortable – now that's a win-win.
Potential injuries can be avoided if your bike is tailored to your individual needs.
As one of the Brisbane's most recognised bike fitters, Bike Fit Studio's uses real-time 2-D and 3-D motion-recording technology to capture data on how you are positioned on your bike.
Add video – show customer on what we look at during a bike fit
FAST FACT: 3.6 million people ride a bike in Australia each week. Source: Austroads 2013 Participation Survey
Step by step: Here's what happens when you get an initial bike fit
FIT FLOW INFOGRAPHIC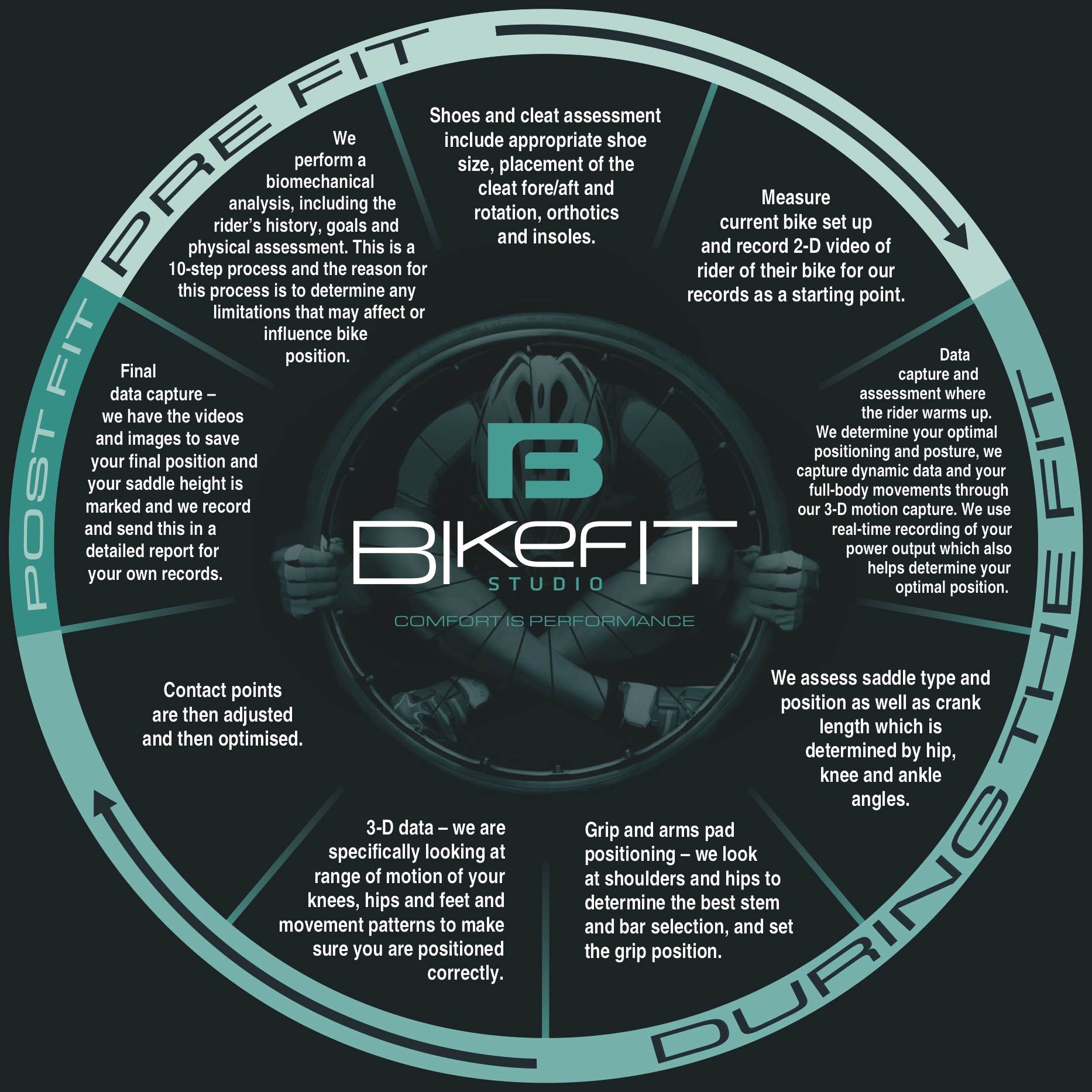 PRE-FIT
We perform a biomechanical analysis, including the rider's history, goals and physical assessment. This is a 9-step process and the reason for this process is to determine any limitations that may or may not affect or influence bike position.
Shoes and cleat assessment include appropriate shoe size, placement of the cleat fore/aft and rotation, orthotics and insoles.
Measure current bike set-up for our records as a starting point.
DURING THE FIT
Data capture and assessment where the rider warms up. We determine your optimal positioning and posture, we capture dynamic data and your full-body movements through our 3-D motion capture. We use real-time recording of your power output, which also helps determine your optimal position.
Saddle position and crank length – we look at knees, ankles and hips.
Grip and arms pad positioning – we look at shoulders and hips to determine the best stem and bar selection, and set the grip position.
3-D data – we are specifically looking at range of motion of your knees, hips and feet and movement patterns to make sure you are positioned correctly.
Contact points are then adjusted and then optimised.
POST FIT
Final data capture – we have the videos and images to save your final position and your saddle height is marked and we record and send this in a detailed report for your own records.
TOP TIP: Having an imbalance of pressure on your feet during hours of pedalling is a major reason for hot foot so we recommend proper insoles for arch support.
At Bike Fit Studio we talk our customers through each step and explain the process. This can be particularly beneficial for people who may not be aware of existing problems, such as they have one leg shorter than the other.
Our bike-fitting service is personable and thorough, and the end goal is to make sure you sit more comfortably and ride with more efficiency.
Contact us (07) 3844 0226 or info@bikefitstudio.com.au and get fitted properly today.